Digestion
Probiotics
Fibre
View Supplement Info
Sale price
$15.00 USD
Regular price
(Save Liquid error (snippets/product-price line 74): Computation results in '-Infinity'%)
Unit price
per
View full details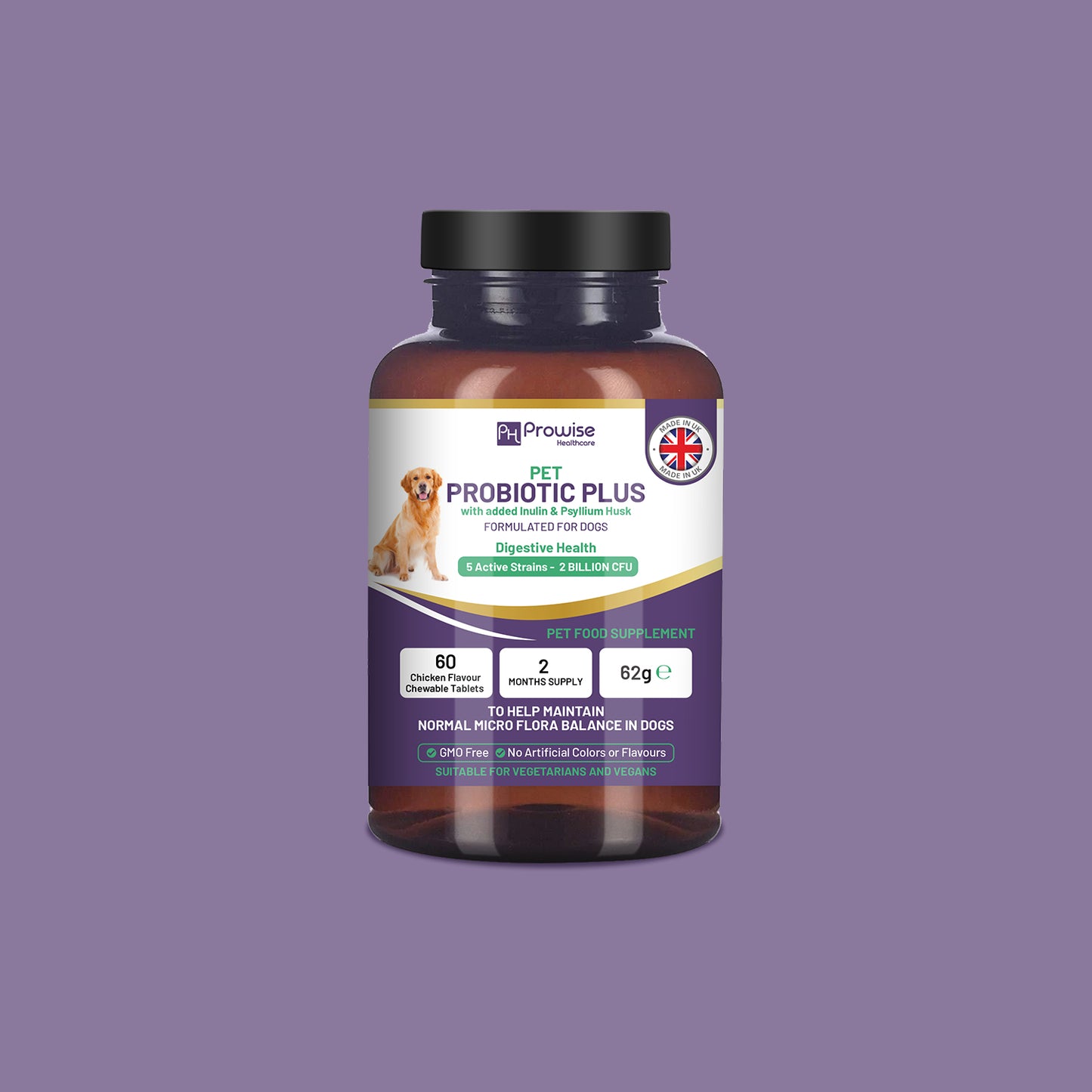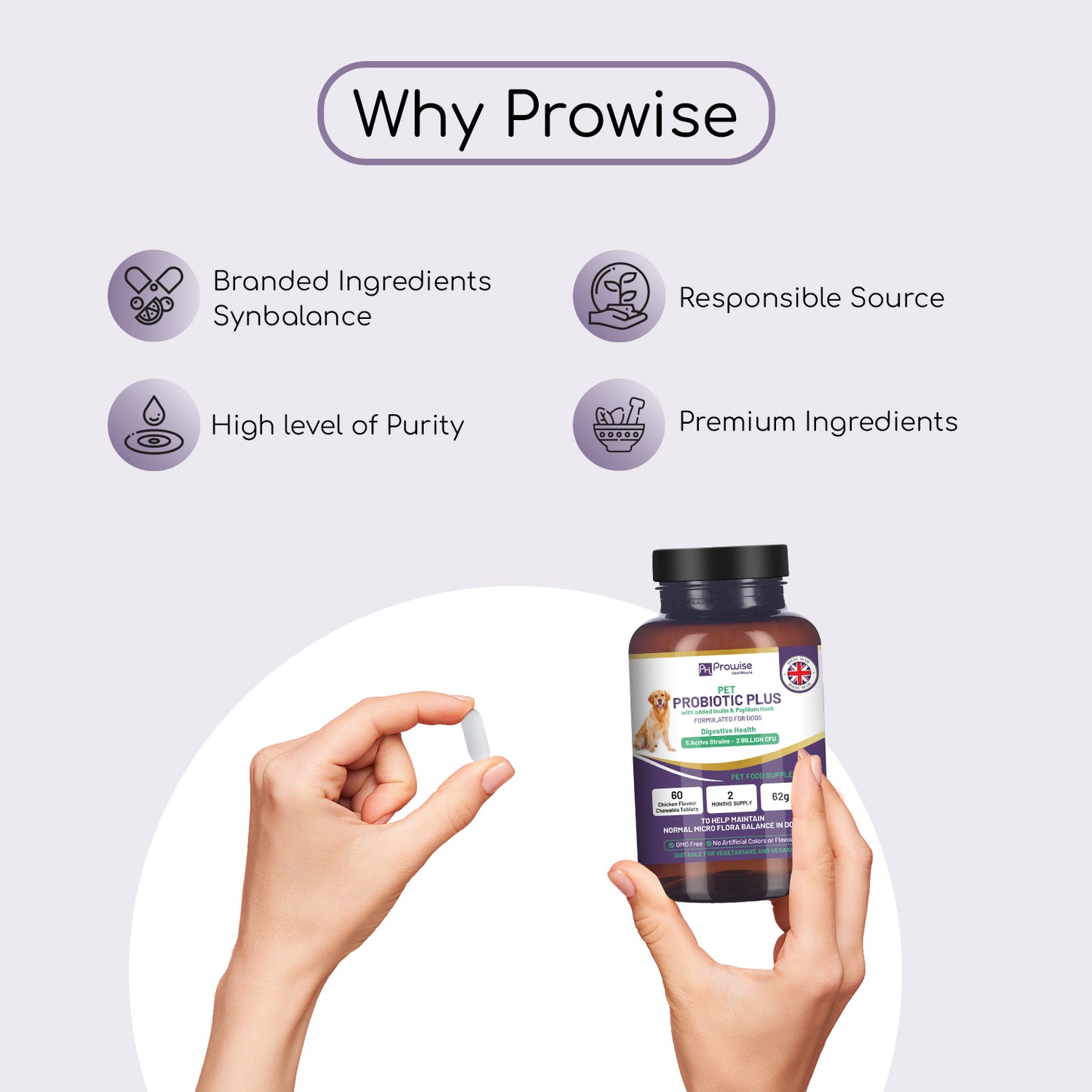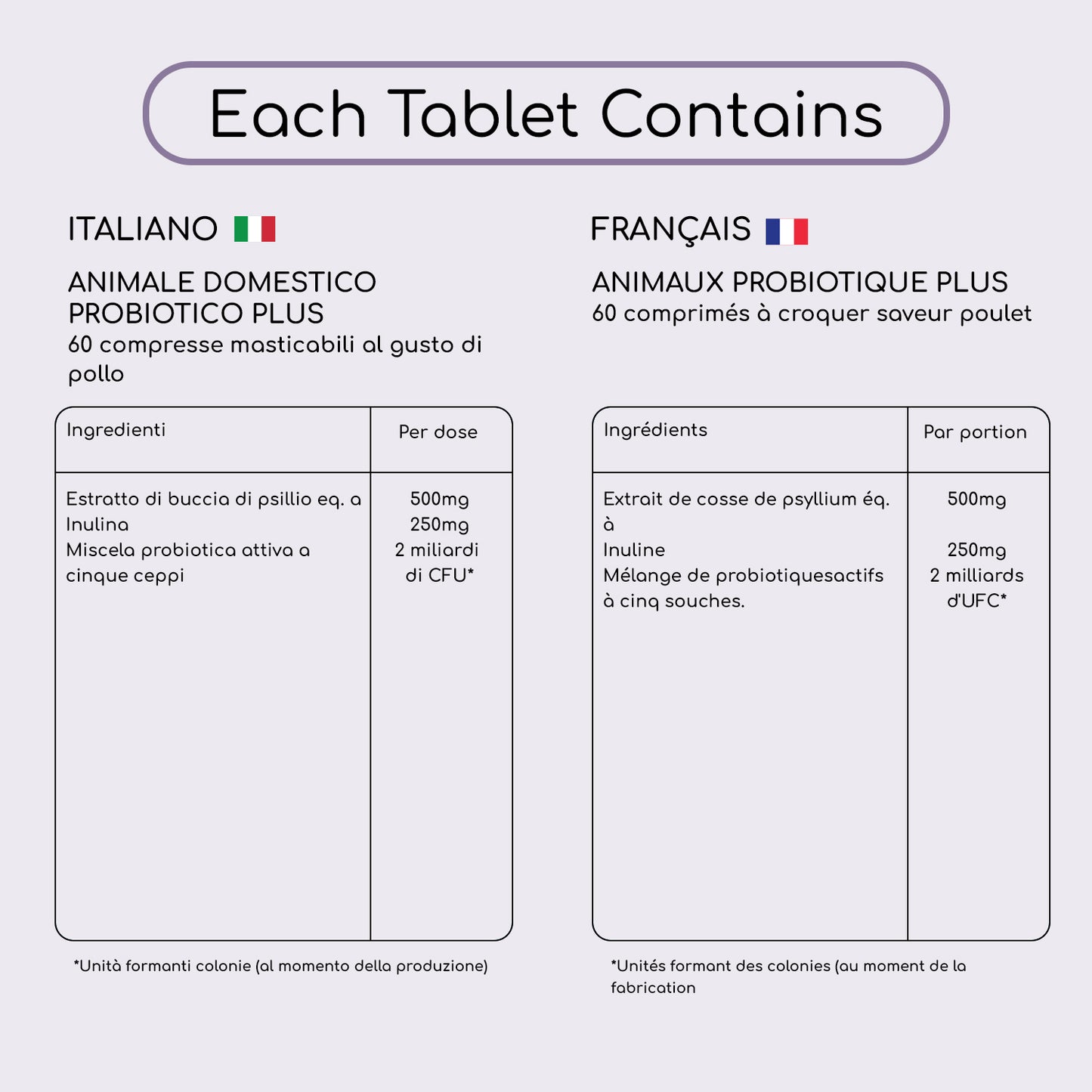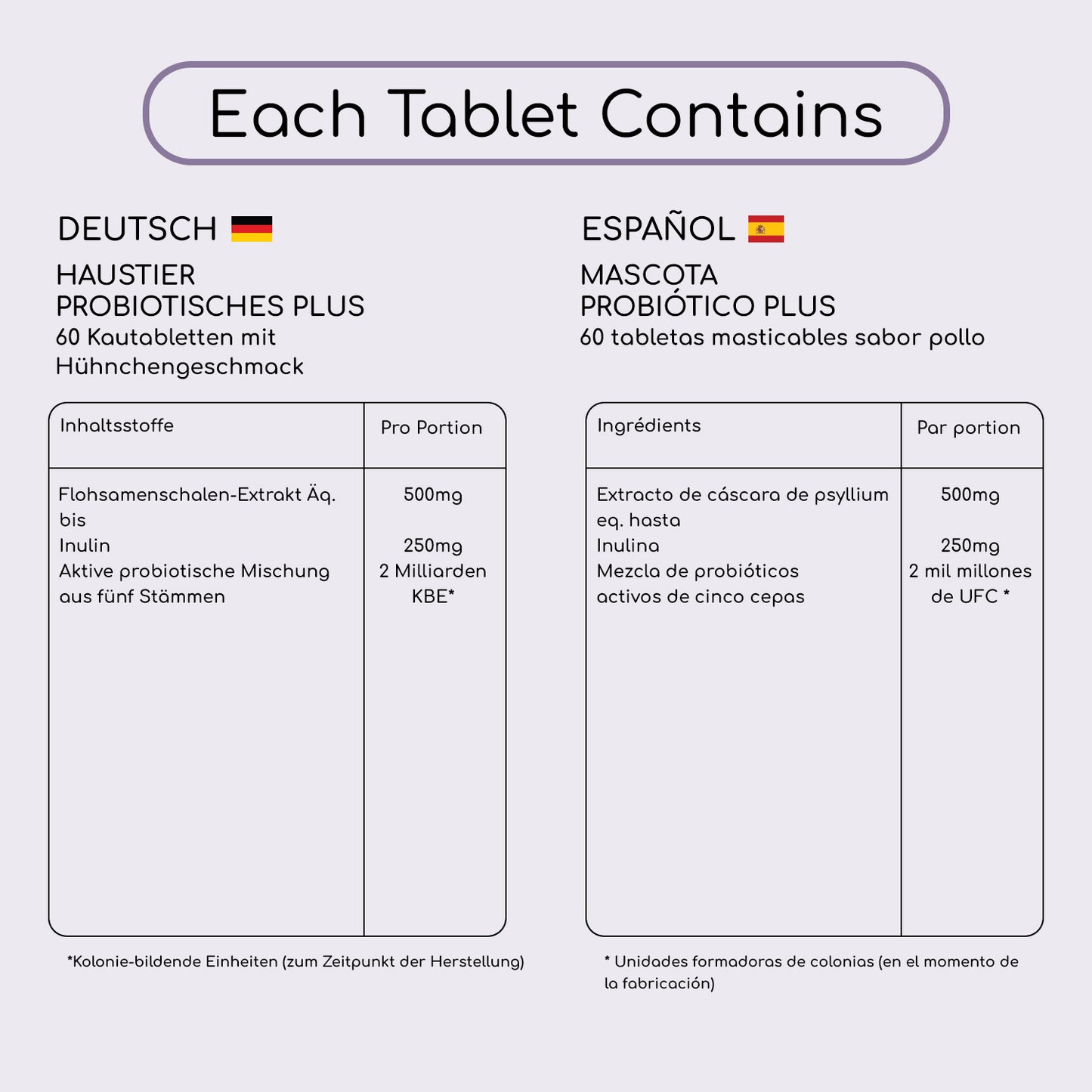 For Enhanced

Wellness and Vitality
Synbalance(TM) Strains for Optimal Effectiveness
Pet Probiotic Plus boasts 2 billion CFU with 5 active Synbalance(TM) strains, ensuring your pet receives the best in digestive and immune support.
Enhanced Digestive Health
Enriched with inulin prebiotic and psyllium husk, our pet probiotic supplement improves digestion, supports nutrient absorption, and promotes a healthy digestive tract.
Comprehensive Health Benefits
From combating diarrhoea to dull coats, this delicious, chicken flavoured pet probiotic supplement addresses a range of concerns to enhance your pet's quality of life.
Suitable for All Ages & Sizes
Whether you have a playful puppy or a senior companion, our pet probiotic supplement is a versatile solution suitable for pets of all ages and sizes.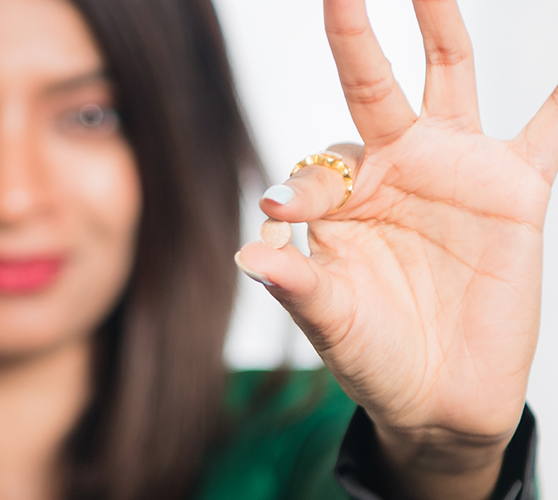 How to consume?
Consume tablets (based on your pet's weight) a day with food and water to experience the rich benefits of this supplement. As a trusted British brand, we make our supplements right here in the UK, to ensure the highest standards of quality, safety and effectiveness of our products.
Enhance Your Furry Friend's Health
Enriched with Inulin Prebiotic and Psyllium Husk, these chewable chicken-flavoured pet prebiotic tablets offer comprehensive digestive care. Thanks to Synbalance(TM) strains, this unique formulation features 2 billion CFU with 5 active strains, carefully chosen for their effectiveness in promoting optimal digestion and immune support in dogs.
Strengthen your pet's digestive and immune systems, addressing concerns such as diarrhoea, constipation, dull coat, and more. Crafted to suit all ages and sizes, Prowise Pet Probiotic Plus is your companion in fostering a healthy and happy pet.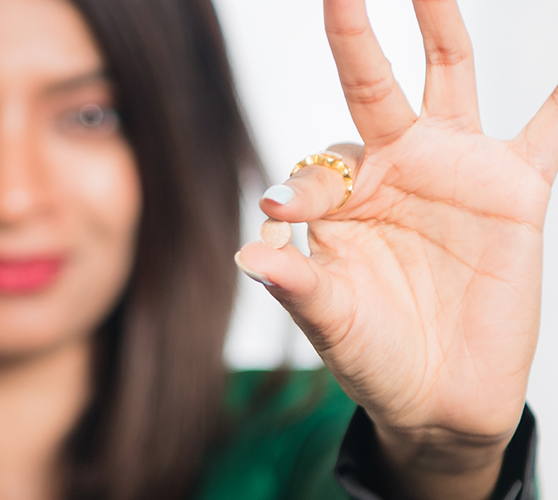 What's In It?
Active Ingredients


Per Serving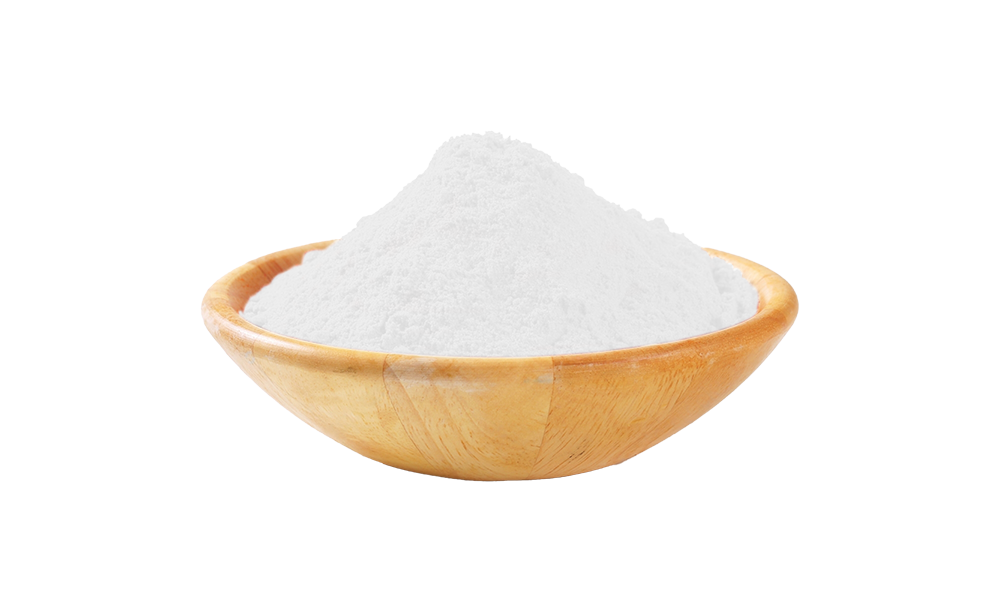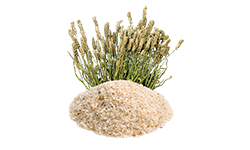 Psyllium Husk Extract
500mg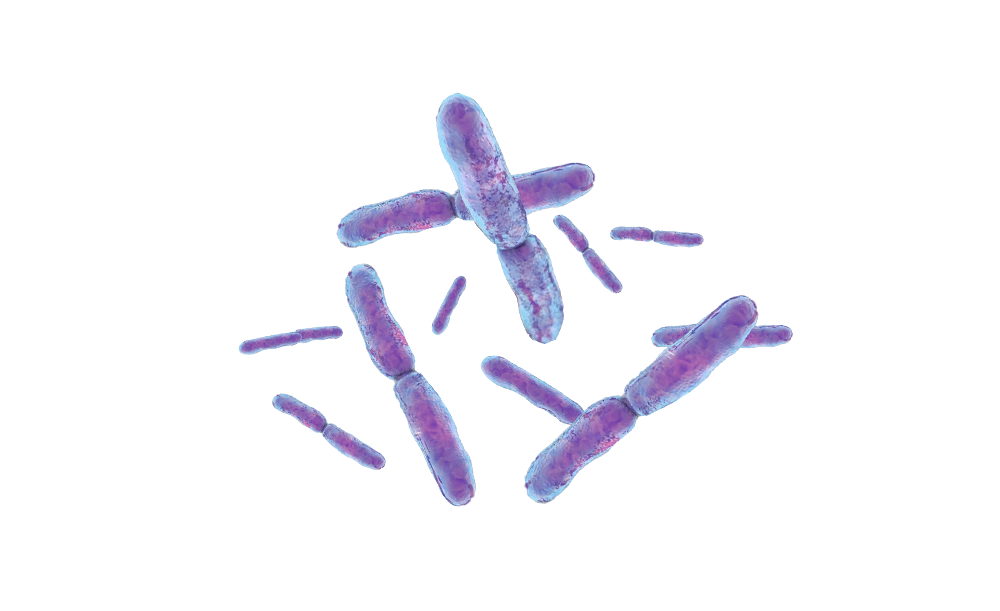 Five Active Probiotic
2 Billion CFU**
Easy Steps To

Better Health
What
How
How
Fantastic Product
This fantastic product has made a significant difference in my dog's digestive system.
I gave these to my mutt who had issues with yeasty ears and itchy skin. After using this product, I was able to take him off his expensive allergy medicine. I wish the vet had told me about this years ago, but I learned about probiotics being a possible cure for his itchiness from a video for a similar product advertised online and gave it a try. So happy I did.
Probiotics have many benefits but they're not instantly obvious so with these as with any it's a case of waiting to see if they help your dog.
The good news with these is that despite them being large, crunchy tablets both my Cavalier King Charles Spaniels eat them like they're a treat.
The price is high when you have two dogs, but if they work then I'd be prepared to pay it. It's a waiting game now to see if some of the more obvious (and smelly!) digestive issues they have improve.
These are brilliant to give to your dog/pup once a month after the worming treatment, they help the gut recover from expelling any parasites, they give the gut a boost & helps the dogs immune system, always ideal to have in the home for when they have tummy issues these can help them recover a little quicker but mostly help them recover in a healthy way. A good gut is essential for our dogs, these are good quality.
My dog has IMHA and has a result gets frequent bouts of colitis. I started giving her pre and pro biotics months ago now to keep her tummy nicely balanced so she doesnt bleed.