Arthritis
Antioxidant
Anti-inflammatory
View Supplement Info
Sale price
$13.00 USD
Regular price
(Save Liquid error (snippets/product-price line 74): Computation results in '-Infinity'%)
Unit price
per
View full details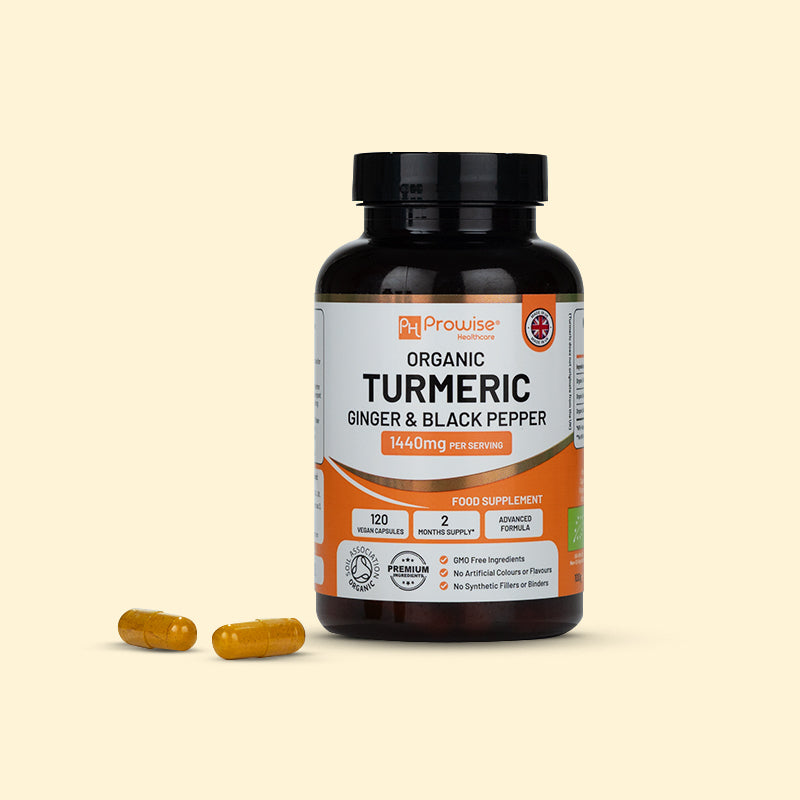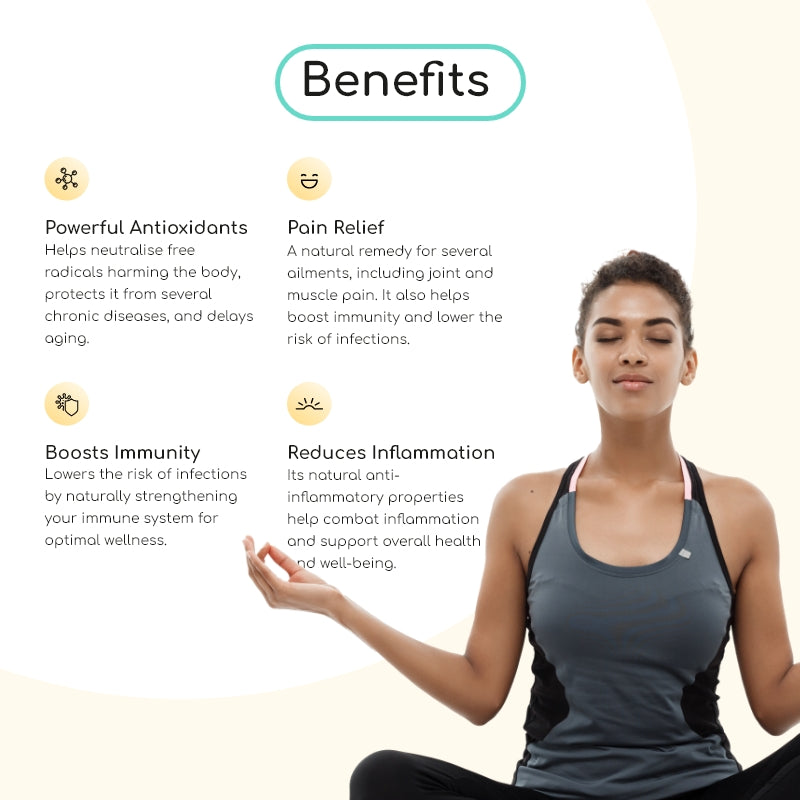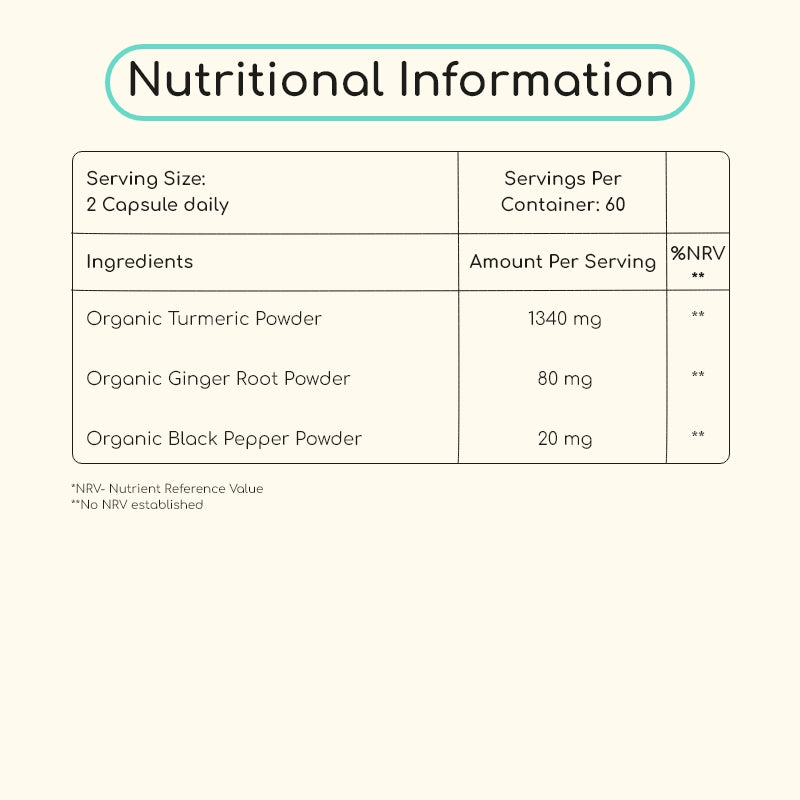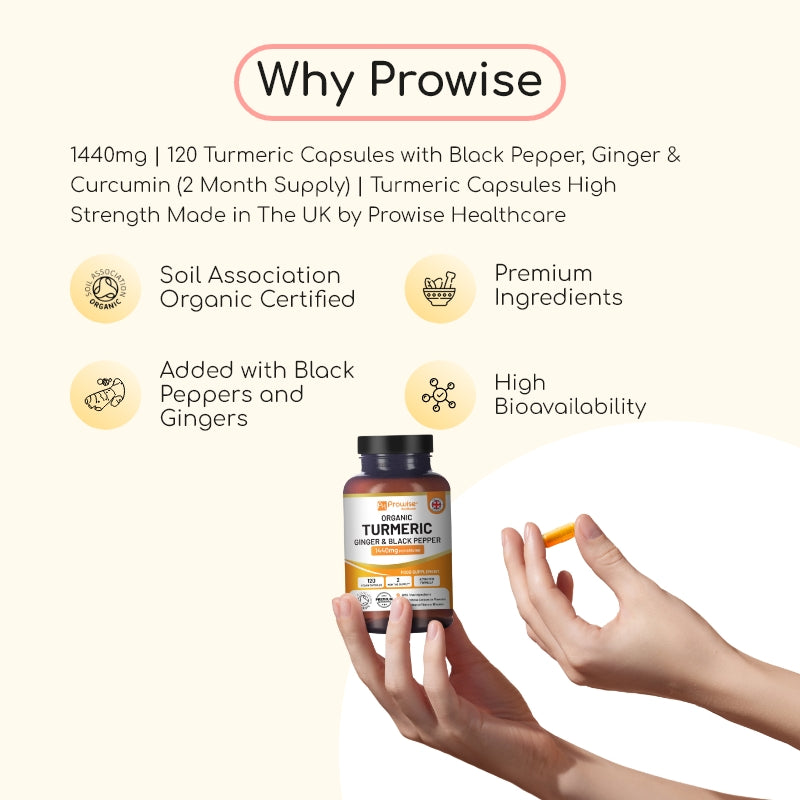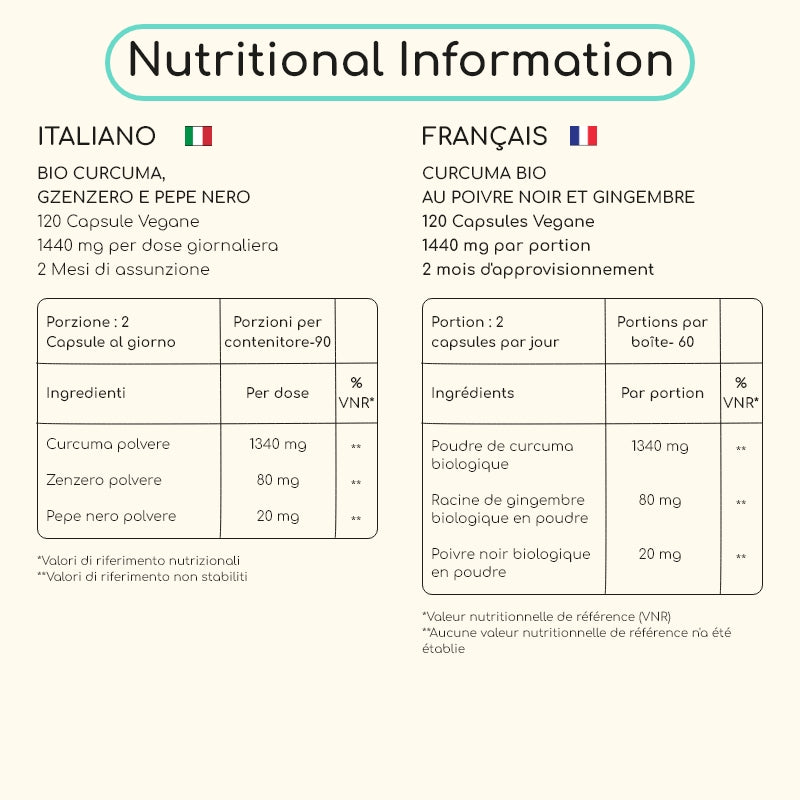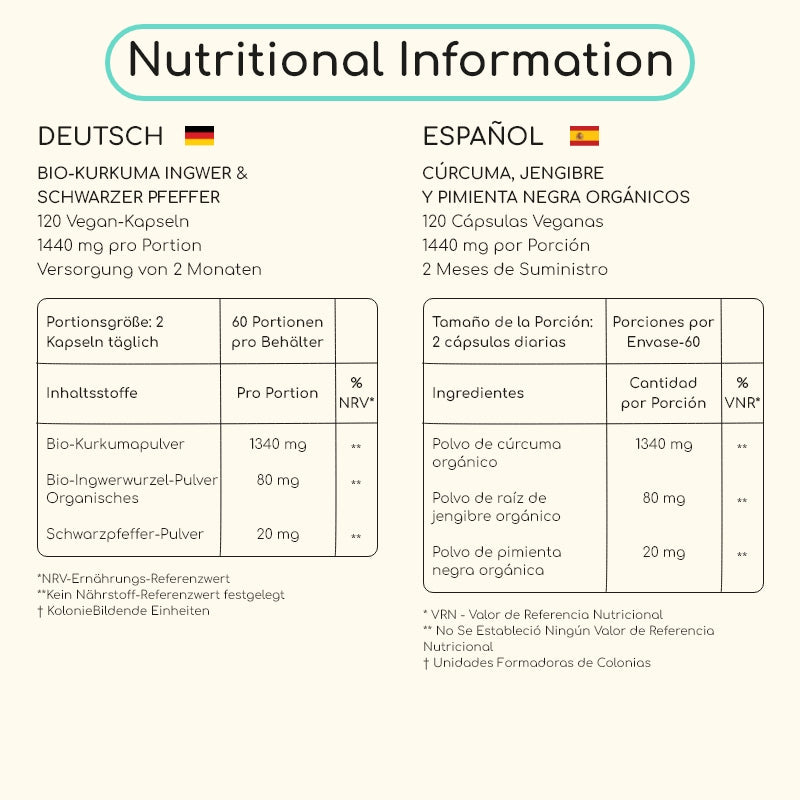 The Essentials Of

Complete Wellbeing
Improve Joint And Muscle Function
Get relief from arthritis, joint and muscle pains, while boosting your immune system thanks to the natural anti-inflammatory and antioxidant properties of turmeric.
Give Your Body A Full Detox
Our organic turmeric curcumin supplements are rich in antioxidants that promote liver detox, protecting your body from toxin-induced damage from free radicals.
Experience A Cognitive Boost
Prowise's turmeric curcumin supplement helps you unlock the potential of your mind and improve mental clarity by supporting brain function.
Fortify Your Immune System
Prowise Organic Turmeric Curcumin Capsules provide your body with the tools it needs to fend off infections and illnesses, improving your overall wellbeing.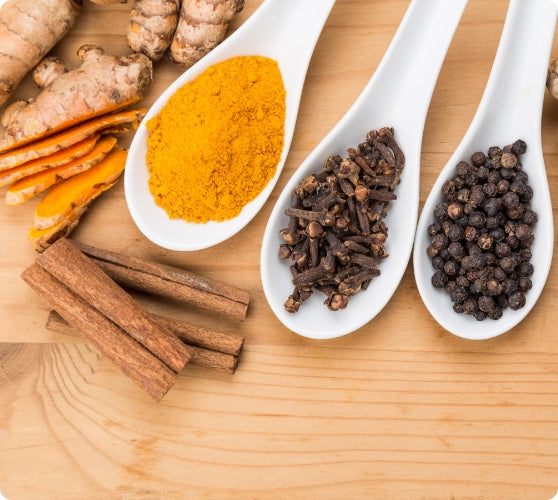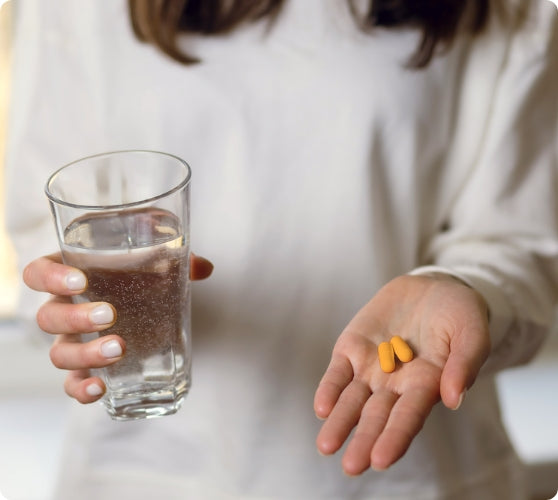 How to consume?

Experience the abundant advantages of this superfood by consuming two capsules daily alongside your meals. Our supplements, crafted in the UK, emanate from a reputable British brand, guaranteeing the utmost standards of quality, safety, and efficacy in all our products.
Amplify Your Health
Prowise organic turmeric curcumin capsules serve as a holistic wellness solution for both body and mind. Enriched with organic black pepper and ginger, they offer 2000% more absorption, delivering the full potential of turmeric's anti-inflammatory and antioxidant properties directly to your body.
Embrace improved joint and muscle health along with enhanced brain function. They also detoxify your liver and help support kidney function thanks to their high antioxidant content.
Made from 100% Soil Association Certified Organic ingredients, you can rest assured knowing each capsule is an organic goodness powerhouse free from harmful additives and chemicals.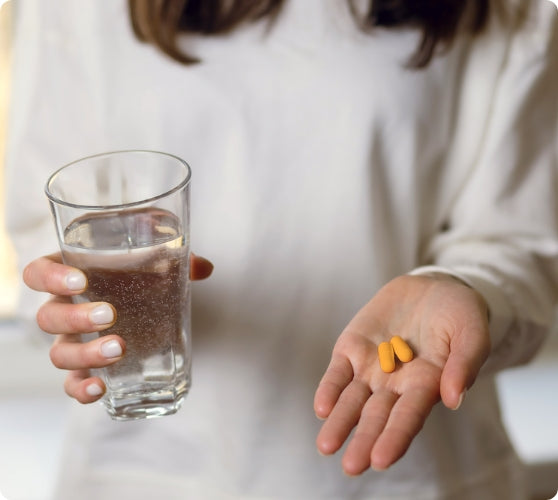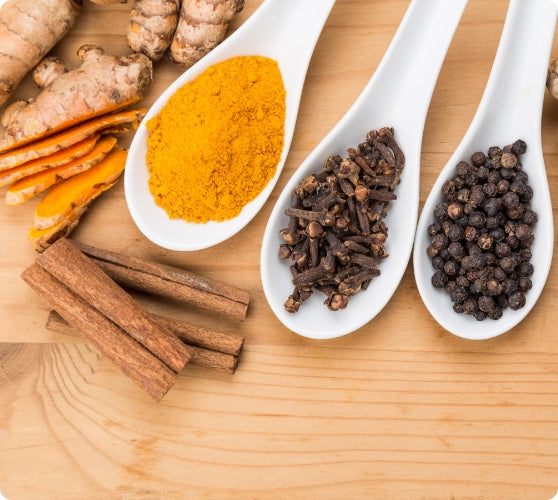 What's In It?
Active Ingredients


Per Serving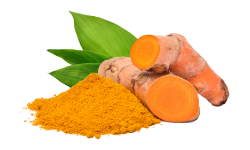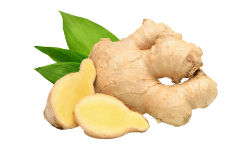 Organic Black Pepper
20mg
Easy Steps To

Better Health
What
When
How
What is organic turmeric with black pepper and ginger?
Organic turmeric with black pepper and ginger is a dietary supplement that contains organic turmeric root extract, organic black pepper, and organic ginger root. This supplement is designed to help support joint health, mobility, and flexibility, as well as promote healthy digestion and a strong immune system.
What is the role of black pepper and ginger in this supplement?
Black pepper extract is added to enhance the absorption and bioavailability of turmeric curcuminoids in the body. Ginger root extract is added to support healthy digestion and provide additional anti-inflammatory benefits.
Is this supplement vegan-friendly?
Yes, Organic Turmeric 1440mg with Black Pepper and ginger is vegan-friendly. The capsules are made from plant-based materials, and the formula contains no animal-derived ingredients.
What does "Organic" mean in the context of this supplement?
"Organic" refers to the farming and production practices used to grow and process the Turmeric, Ginger, and Black pepper plant. Organic farming avoids the use of synthetic pesticides, herbicides, and genetically modified organisms (GMOs). Organic certification ensures that the product meets certain standards and regulations set by Organic Soil Association certification.
How many capsules are in each bottle?
Each bottle of Organic Turmeric 1440mg with Black Pepper & Ginger contains 120 vegan capsules. This is a 60-day supply based on the recommended dosage of 2 capsules per day.
Are there any potential side effects from taking this supplement?
Organic turmeric with black pepper and ginger is generally considered safe for most people when taken as directed. However, some people may experience mild gastrointestinal side effects such as nausea, diarrhea, or indigestion. If you experience any adverse effects, stop taking the supplement and consult your healthcare provider.
Is this supplement gluten-free?
Yes, Organic Turmeric 1440mg with Black Pepper and ginger is gluten-free. The formula does not contain any gluten or wheat ingredients.
Is this supplement non-GMO?
Yes, Organic Turmeric 1440mg with Black Pepper and ginger is non-GMO. The ingredients used in the formula are certified Soil Association organic and non-GMO.
Where is this supplement manufactured?
Organic Turmeric 1440mg with Black Pepper and ginger is manufactured in the UK in a GMP- Standard facility. The facility follows strict quality control standards to ensure the supplement's purity, potency, and safety.
Will these help with weight loss
Will taking turmeric help with weight loss
Greg
everything will be allright
I'm just letting it get in my system
Excellent
Good products, fast definitely.
Very good & a good price too.